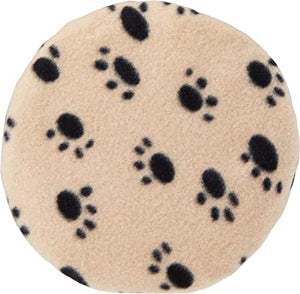 Snugglesafe Heat Pad
Regular price £19.99 Sale
This SnuggleSafe heat pad is recommended and used by vets, breeders, animal rescues, and animal shelters all over the world! 
The SnuggleSafe heat pad contains a gel called Thermapol which is non-toxic and able to sustain warmth when heated in a microwave. It is designed to give steady warmth for up to 10 hours when placed in cover or under the pet's blanket.
This handy microwavable pad turns nap time into snuggle time. Quick, safe, bite-proof and scratch-proof. This quite special heating pad and the free soft fleece cover keeps pets warm at home and cozy when on the go: at shows, at the vet and during travel in boxes. It is recommended to always have a barrier, such as the free cozy cover, or a blanket between the animal and the SnuggleSafe heatpad. The SnuggleSafe heatpad is especially recommended for anxious pets, having therapeutic effects on stress.
SnuggleSafe Heat Pad for Pets at a glance:
Heated quickly and easily in the microwave.
Stays warm for up to 10 hours.
No water-filling necessary.
Absolutely safe and non-toxic: no wires & bite-resistant.
Includes a star or paw print patterned fleece cover (no choice of design)
Especially well-suited for newborns, older, ill, or nursing animals.
Recommended by vets.
Instructions:
Just warm the SnuggleSafe Heat Pad in the microwave. After just a few minutes the pad will stay warm for up to 10 hours. Suitable for standard household microwaves with power capabilities of 600 - 1400 watts. The heating times vary according to the performance of the microwave.
The heating pad is made of non-toxic material, and can simply be placed into your animals bed or carrier. 
Contents:
1x SnuggleSafe Heat Pad, diameter approx. 20cm
1x matching patterned fleece cover